Sustaining and Sharing Value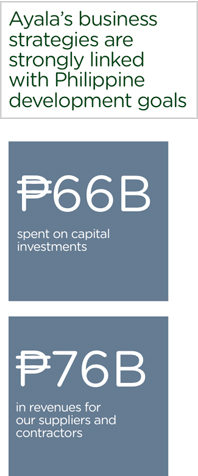 The Philippine economy recovered in 2010 from a downturn in 2009 with its natural calamities and the global recession that began in 2008.
The group's aggregate or combined revenues in 2010 reached PhP 181.5 billion, up 7.52 percent from PhP 168.8 billion the previous year, with telecommunications, banking, and real estate making the biggest contributions. Group net income was PhP 34 billion.
About PhP 149 billion, or 82 percent of the revenues, was distributed to the various stakeholders: PhP 25.5 billion, or 17 percent, in dividends paid to stockholders; PhP 25.6 billion, or 17 percent, in taxes paid to the government; PhP 75.6 billion or 51 percent, in payments to suppliers and contractors; and PhP 22 billion in salaries and benefits to employees.
Ayala companies made a total of PhP 525 million in charitable contributions and donations. This amount does not include community investments made through sustainability initiatives already embedded in business operations. For future reports, we plan to standardize the data gathering of our companies regarding community investment.
Other parts of this report describe efforts to create shared value with a wide spectrum of stakeholders, including markets traditionally believed to be unviable, and to contribute to the economic development of various communities through strategic investments in environmental and social sustainability.