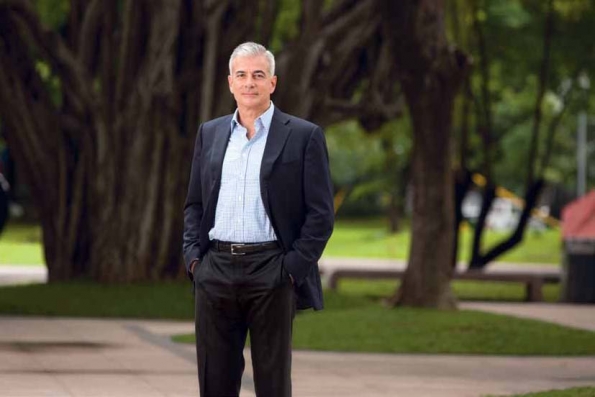 Statement from the President
Dear Stakeholders,
Several additional points of emphasis, including two new enterprises, serve to highlight our 2009-2010 sustainability performance report. These important new undertakings address concerns that run the gamut from mobile-phone microfinance banking to green energy equipment manufacture, water security and community health, and disaster preparedness. At the same time, we continued our programs in social empowerment, education, and socio-economic development.
Our 2009-2010 Sustainability Highlights
A significant point of convergence of economic, environmental, social, and business sustainability issues is Manila Water's Tubig Para Sa Barangay program. Here, the issues intersect and drive one another. An innovative solution to a deep-seated problem, Tubig Para Sa Barangay is designed specifically for areas with clusters of low-income communities, including informal settlers, where illegal water connections proliferate and supply residents with low-quality water. These residents face perennial health hazards and severe sanitation problems.

A breakthrough solution was necessary, and Manila Water today has successfully taken in more than 1.7 million residents of these areas to the program. The water-borne diseases in the communities have been reduced and the overall sanitation has improved. At the same time, Manila Water addresses water security issues, minimizing leakage and pilferage.
A new enterprise is BPI Globe BanKO, which Ayala Corporation, Bank of the Philippine Islands (BPI), and Globe Telecom launched in February 2010. Effectively a social empowerment endeavor as well as a viable proposition, BanKO is a licensed bank that uses mobile-phone infrastructure and technology to serve low-income groups across the Philippines. using text technology, its reach is virtually limitless, and provides access to financial services to people who otherwise had none.
BanKO has lent out PhP 1.1 billion to microfinance institutions that can reach 200,000 customers.
The other new company is IMI Energy Solutions, formed in 2010 by our electronics manufacturing service provider, Integrated Micro-Electronics, Inc. As a new venture which develops and manufactures solar power panels and provides related technologies and services, IMI Energy Solutions effectively gives concrete expression to our long-standing commitment to environmental preservation. We foresee that its customers and clients will be entities that share this commitment.
Implicit in the three above-mentioned undertakings are creativity, innovation, and commitment to sustainability. They required new thinking, unprecedented ideas, and considerable effort. As our experience has shown so far, these are likewise the requirements of creating shared value. As these undertakings benefit both our clients and our businesses, we expect their success to last for the long term.
Success was also concrete for Ayala Land, Inc., whose One Evotech in NuVALI became the first Philippine building to achieve the prestigious Leadership in Energy and Environmental Design (LEED) certification. For its procurement program, Ayala Land received the Green Procurement Practices Award. We view these not only as recognition of our commitment but also as further reason to champion the environment. In 2009-2010, Ayala Land joined industry-wide initiatives to promote nationwide adoption of environmentally responsible principles and practices.

Education and social sustainability in the country's archipelagic setting are the continuing objectives of Globe Telecom's Bridging Communities, which leverages its mobile phone and Internet technologies to connect public schools to the Internet. This undertaking is part of the Department of Education's Internet Connectivity Program, which as of 2010 had 4,497 connected public high schools all over the country, with 2,153 more awaiting connection.
Globe has connected 1,954 public high schools to the Internet, the highest number among telecom companies. In addition, it has connected 58 public elementary schools, bringing its total to 2,012.
BPI leads in the Philippines in financing investments in energy efficiency and renewable energy. It is a pioneer partner of the International Finance Corporation in the Sustainable Energy Finance (SEF) program, which is aimed at catalyzing private sector efforts in improving environmental sustainability. Through SEF, BPI encourages businesses—large, medium, and small scale— to operate in ways that are more sustainable and less carbon-intensive.
In 2009-2010, BPI conducted 119 energy walkthrough audits for various companies, assisting them on ways to improve efficiency and profitability while engaging them in climate change mitigation. As of end-2010, BPI's SEF lending totaled PhP 2 billion.
Climate change impact-mitigation efforts became a point of focus in 2009-2010 for Ayala Foundation, Inc. (AFI) The foundation joined Our Lighthouse Alliance, a consortium of 15 organizations that will equip the public with disaster- preparedness skills and infrastructure support. AFI also donated PhP 1.8 million to the Noah's Ark Project to upgrade a public school's evacuation facility and to develop the resilience of disaster-prone communities.
This new role for AFI is in addition to its continuing and far-reaching programs for the Ayala group's exercise of corporation social responsibility (CSR). AFI remains as a mover and collaborator of our individual companies in their respective CSR initiatives and as the spearhead in several multi-sector, multi- group CSR activities devoted to education, poverty alleviation, and cultural development.
AFI leads in developing the conglomerate report and planning the group-wide initiatives to cascade sustainability principles, trends, and benchmarks and to build our expertise in the coming years.
Ayala Automotive Holdings Corporation engaged its network of Honda and Isuzu dealers in identifying issues common to all of them. A major concern identified was proper waste management. The Honda and Isuzu networks took the next step, working together to formulate a policy that would apply to each dealership.
The success stories in this report are experiences that we wish to scale up. As we continue to align ourselves with national development goals, we hope to have more of them in future reports.
Fernando Zobel de Ayala
President and Chief Operating Officer