Promoting Empowerment and Equality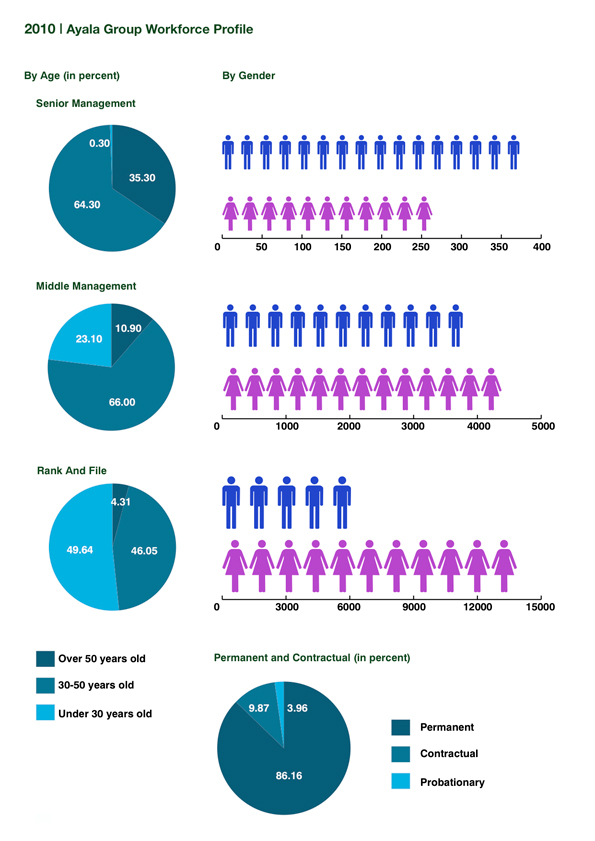 Ayala's contribution to employment is significant. The companies we cover in this report directly employ a total of 27,753 people nationwide, supporting our goal of extending our economic impacts outside established urban centers such as Metro Manila.
Our companies seek to foster and promote a nurturing work environment. We are an equal-opportunity employer and promote career advancement based on performance: 42 percent of members of our senior management and 63 percent of our total workforce is female.
Ayala nurtures a pipeline of talent at the workplace. Our recruitment philosophy is based on molding and developing people's professional interests and aspirations. We hire not just to fill a position but to give individuals opportunities to build their careers in alignment with Ayala's goals.
Ayala's young workforce age reflects our hiring philosophy. Our recruitment is supported by the strong links and relationships that Ayala has built with universities and colleges. Additionally, the Ayala young Leaders Congress (AYLC) continues to attract the top students every year. Out of the total 963 AYLC alumni since 1999, 71 are now employed in the different Ayala companies.
Turnover at 24 percent, however, was high in 2009 at the time of the global recession. This improved in 2010 at a group-wide rate of 14 percent. The breakdown of turnover rates per company is available in their respective reports. We hope to keep improving on these numbers in the coming years.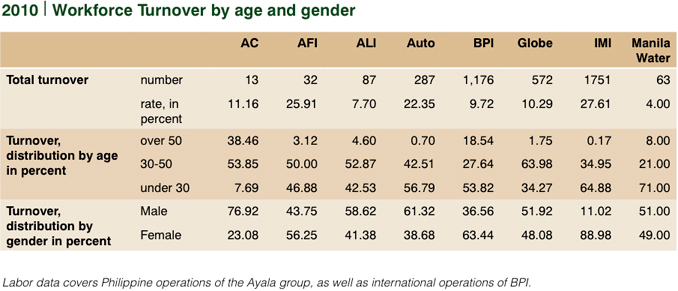 Group-wide Career Advancement and Talent Review
We make it a point to be consistent and rigorous about career advancement and talent review programs. These include regular and functional training opportunities, career performance reviews and competency assessments, and career and succession planning. We do this to make sure we retain the best people.
The group-wide talent review focuses on 500 of the Ayala group's most senior business executives, including CEOs, the management committee, and the emerging leaders under them. Below the top positions at the business units, the individual companies have their own talent review processes, which are just as robust and rigorous.
Ayala makes sure that all our employees receive regular performance reviews so that they can keep growing with their respective companies. Ayala Corporation, Ayala Foundation, Ayala Land, Ayala Automotive, and Integrated Micro-Electronics all posted 100 percent regular performance reviews for their employees. Globe Telecom, Bank of the Philippine Islands, and Manila Water ensure the performance assessment of all their employees, however, figures posted here are limited by conditions pertaining to employees covered by collective bargaining agreements (CBAs) in these companies.
We place utmost importance on harmonious relations between labor and management. Thus, we make sure to monitor, evaluate, and reward the performance of all our employees according to our companies' various capacities.
Ongoing Dialogue for Professional and Personal Growth
Ayala takes care of the professional and personal growth of all employees and maintains open lines of communication. Employees at all levels are encouraged to discuss with management how we can promote a safe, productive, and harmonious environment so that they can be challenged, fulfilled, and productive. Work-life balance continues to be an important thrust of the companies.

Ayala is known for rewarding employees with competitive benefit plans and equitable compensation. Our companies pay up to 30 percent above the legally mandated floor wage. Benefits provided to full-time employees across the different companies may vary, but standard items such as health care and medical examinations, legally mandated leaves and bonuses, educational and emergency loans and assistance, disability coverage and accident insurance are available to all regular employees.
Our companies also have defined benefit retirement and welfare plans and they offer both optional and mandatory retirement. All regular employees are covered by separation and retirement policies of the companies. These benefit plans are reviewed regularly to make sure that we are able to respond to the needs of our employees to enter this next stage of their lives feeling safe and secure.
The health and safety of our employees is a priority. Apart from those covered in the benefit plans, there are education, training, and counseling programs regarding serious diseases such as Influenza A(H1N1), which broke out in 2009. We have flu immunization and vaccination programs; circulate advisories and information bulletins on health hazards, disease detection and prevention, such as hypertension, diabetes and cervical cancer; and offer stress management courses and nutrition and fitness counseling, among others.
Finally, we believe that crucial to attracting and retaining the best employees is Ayala's demonstrated ability to uphold dignity of labor and to protect human rights at the workplace. Our companies' personnel policies and codes of conduct set forth requirements and guidelines for responsible behavior both in and out of the workplace.
We fully comply with all labor laws and social legislation and have zero reported incidences of child labor, forced and compulsory labor, and discrimination across the entire group. We make sure that all security personnel are trained in the organization's policies and procedures so that they protect the rights of all our stakeholders. Majority of our companies conduct training for all their security personnel, and those who have yet to fully implement this seek to improve on the numbers in the years to come.