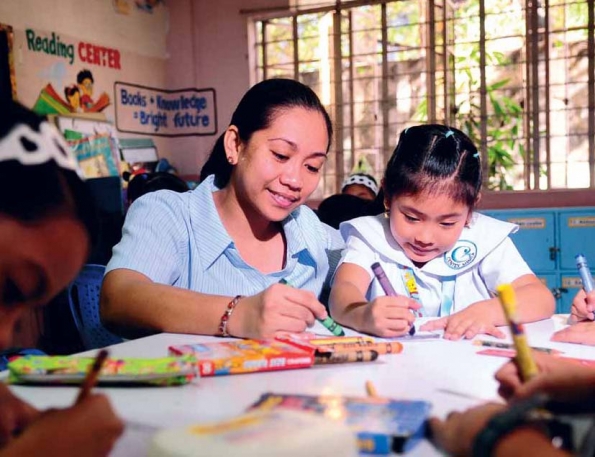 Our Approach: Social Sustainability
Social Responsibility. Ayala's long-term economic success as an enterprise is closely linked to the well being of the communities where it operates.
Ayala has a strong, unwavering commitment to corporate social responsibility for shared value and sustainable solutions. Business can be profitable while making a difference, particularly by focusing on underserved market segments that also have the greatest needs.
Every subsidiary and affiliate in the group is encouraged to practice good corporate citizenship and embed its principles throughout the value chain. To complement these efforts, the companies channel their support to the national development agenda through Ayala Foundation. The foundation seeks to eradicate poverty in all its forms by tapping into the potential that we see in every Filipino to improve his quality of life and empowering him through programs on education, environment, and entrepreneurship.
We believe that the unified action of different sectors of society can prove transformative, and we harness our expertise in consortium building to bring about widespread positive growth. We take our leadership position in Philippine industry and society seriously and strive to meet and exceed our responsibilities as corporate citizens over and above compliance with the rule of law.
Throughout all our activities, we strictly abide by the principle of "doing the right thing," conducting ourselves with integrity and avoiding conflicts of interest. Transparency in all our undertakings and accountability have earned for the company its strong position of trust among its partners and stakeholders, which we consider as crucial to achieving our development goals.
Labor, Workplace, and Human Rights. Ayala strongly believes in, and adopts as part of its basic operating principles, the primacy of the person and the empowerment of people. We employ individuals with integrity and we make sure to reinforce this by the corporate culture that we promote. We support personal development and excellence in the workplace; foster a healthy and safe environment where talent and expertise can thrive; uphold a corporate culture of innovation, responsibility, and accountability; and ensure the protection of human rights throughout all aspects of our value chain.
We do our best to inspire and challenge our employees, develop their talents, and recognize their needs as our business partners. We empower them with training and opportunities to manage complex issues, make informed decisions, and take action within the framework of a shared vision. We reward intelligent risk-taking and support our employees in their determination to innovate and pioneer a sustainable future for the company and the communities we serve.
The Ayala group complies fully with all labor laws and social legislation. We create a work environment that is hospitable to the growth of the business and to the personal development of its people without fear of coercion, threats, or retaliation. We consider labor-management relations an important mechanism in protecting the rights of our employees and promoting safety and fairness in the workplace. We believe in dignity of labor, hold human rights in high esteem, observe equality of opportunity in career development, and promote a workplace where employees have a platform to have their concerns addressed and resolved. All these are set forth in our policies and codes of conduct.
Ayala adheres to the ideals of justice and fairness in its business and all its dealings with its employees, contractors, and communities. There is a strong congruence between Ayala's corporate values and the values that our employees live by. One way to promote this is through volunteerism. Service and concern for others are ways by which we strengthen our sustainability practice, promote social cohesion among employees and our communities, and build leaders with integrity and a vision to national development.
We are especially aware of the presence of indigenous peoples in one of our host communities and we make sure to protect, preserve, and promote Iraya Mangyan culture and heritage. During community development interventions, we consult with and seek the opinions of the council of elders, as well as seek consensus from the community to make sure our programs are consistent with the beliefs and norms of the Iraya Mangyan community.