Leading the Ayala Way
Our goal of being a transformational force in Philippine society is built on our people's capacity for leadership with a long-term vision.
Strategic, Values-Oriented Talent Management
Ayala's business success stems largely from attracting and retaining individuals who are driven, thrive on challenges, and want to make a difference. We reward our employees for their intelligent risk-taking, encourage strong ethical behavior, and support them in their determination to make things happen while guided by the loftier goal of national development. We realize such traits in individuals, when channeled properly, propel our company to success and our society to progress.

We make sure our work environments are propitious to these twin goals of business growth and the personal development of our employees. To foster a culture of collaboration and motivation is also a major goal of the Ayala Group HR Council, so that the workplace continuously incubates and promotes individual professional excellence.
Ayala Corporation's Strategic HR division serves as the lead organization in policy direction and recommendation for the conglomerate. The Ayala HR Council, composed of key HR decision makers and policy makers, essentially harnesses and fosters synergy among Ayala companies to realize greater cost efficiencies and create innovative programs that add value to business. It sets a strategic agenda and direction to become more responsive to the group's needs and upholds Ayala's corporate values in the workplace.
Pioneers of the Future
If there is one lesson that 177 years of forward-looking orientation have taught us it is this: Change is the only constant and our people must adapt and lead the company effectively through it. Ayala works hard to keep its corporate citizens relevant in these changing times. Our companies have built a reputation for themselves as environments where high-level performers can build rewarding careers.

Because we see our business responsibilities extending beyond shareholder expectations and commercial objectives into national development goals, we train our talent pool to the best of their abilities. Our leadership training and technical proficiency programs equip our employees with the knowledge and skills for strategic and innovative thought, greater productivity, and an orientation towards more equitable, more responsible results.
Created in partnership with Harvard Business Publishing, the Ayala Leadership Acceleration Program (Ayala-LEAP) is a new and innovative, formal leadership development program. It allows our group to take a strategic position in our talent management process by building a world-class pipeline of top talent while strengthening the cornerstones of our business strategy. It supports our core value of empowering leadership, which is called for when facing a whole range of complex business, people, and sustainability issues.
The Ayala-LEAP program is an innovative combination of self-study, online group collaboration, virtual seminars with Harvard Business School experts, and face- to-face classroom discussions. Participants have access to the world's best content and thought leaders on four key areas. These areas—Strategic Visioning and Execution, Customer Centricity, Innovation and Growth, and Leading for Transformation and Engagement—have been carefully chosen on the basis of how they align to our strategic goals as a group, particularly in developing global mindsets among our senior executives. A wealth of new ideas and insights based on experience are also provided by their colleagues in the group. Case-study sessions challenge everyone to discuss real-life examples followed by activities where they can apply key learnings to their respective companies.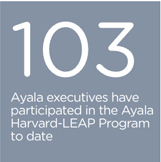 The Ayala-LEAP program concludes with a final project where participants address a particularly critical issue in their respective companies and propose concrete and workable solutions to their CEOs. Once these proposals are approved, the participants are also expected to take the lead in the implementation. We consider this last stage the most important of all. As we seek to create pioneers out of each employee, this stage of the program empowers them to make decisions and take action while always working within Ayala's framework of shared vision and culture. In 2010, 75 Ayala group employees participated in the program, bringing the total to 103.
Pipeline of Technical Excellence
Ayala ensures the education and training of employees involved in technical work. The programs promote new competencies and advance the technical proficiency levels of this sector.
At Integrated Micro-Electronics, Inc. (IMI) scholarships are available to employees who wish to obtain an engineering degree under the Expanded Tertiary Education Equivalency and Accreditation Program. Done in cooperation with the Commission on Higher Education, the program gives IMI employees in the technical field the opportunity to turn their work experience into equivalent credits in tertiary-level engineering units. An employee is given a bachelor's degree in engineering after a minimum of five years' work experience, passing the required assessments, and upon completion of all the requirements of a formal year of classroom training held every Saturday.
To fortify this program, IMI is establishing IMI university in 2011. IMI university will enhance the leadership and technical skills needed to better serve our target markets. Its core and functional courses will enhance competencies of their workforce and ultimately empower them to make work improvements and increase productivity. Detailed training programs of IMI and other companies may be found in their individual reports.
Leading and Learning with Open Hands
Engaging our employees in our social agenda has long been an important aspect of our promise to "Pioneer the Future." Our people's exposure to the development challenges of Philippine society teaches them to look beyond the bottom line. We also realize that our social and sustainability initiatives have become important factors in attracting and retaining employees.
EngageAyala is our group-wide employee volunteerism program that addresses various environmental and sustainability efforts. While each company within the group engages its employees in volunteer efforts, through EngageAyala, any Ayala employee can sign up to be a volunteer in any of the companies' programs.
We see employee volunteerism as a way to augment our sustainability practice as it benefits our company, our employees, and our communities. Employee volunteerism encourages everyone to learn responsible corporate citizenship outside the four walls of the conference room and to reach out to our various stakeholders with generosity and a better understanding of the challenges they face daily.
Our volunteer efforts contribute to our value drivers such as our brand reputation; motivate our workforce and promote cohesion and work satisfaction; and increase the capacity and support the development of our host communities by the skills and learning we share with them.