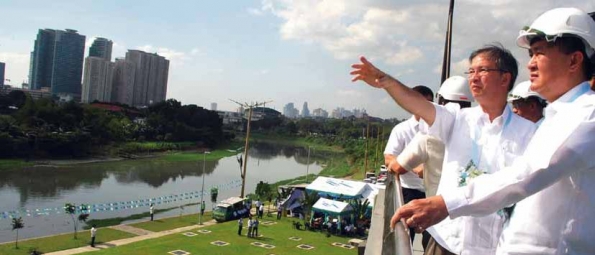 Greening and Growing Our Business
We are happy to report that year-on-year monitoring within and comparability among the companies have improved. We made all efforts to standardize our computations for better comparability, and seek to improve on this aspect in the coming years. Various factors affect the accuracy of our computations such as differences in the scope of our reporting companies, and the lack of updated emission factors for the Luzon, Visayas, and Mindanao grids. Notes on the individual computations are provided following the tables to serve as a guide to readers.
Our Carbon Footprint
Ayala recognizes the need for immediate and decisive actions to curbing greenhouse gas (GHG) emissions in our business operations. Monitoring and managing our carbon footprint is vital to our triple bottom line performance.
During the reporting period, Manila Water expanded its service areas in Rizal and began operating additional wastewater treatment facilities. Globe invested in hardware upgrades for both wireless and broadband Internet connectivity and additional equipment with the rollout of its 4G service. These developments led to increased electricity consumption. While business growth continues to be a priority, we seriously commit to managing the impact of this growth. Efforts to offset our carbon emissions are discussed in the latter part of this article and in the individual reports of our companies.
The conglomerate's total GHG emission increased by 8.7 percent from 2009 to 2010. We continue to study all stages and aspects of our supply chain to allow us to identify areas where we can effectively manage our business footprint relative to our growth.
Energy and Water Consumption and Conservation
One of Ayala's earliest efforts to manage carbon emissions has been through the judicious use of fuel and electricity across all the companies. We continue to implement and enhance this initiative. We conduct consumption studies and the results guide the efficiency and conservation technologies and programs that we put in place in our different offices. For instance, despite the 31 percent increase in Ayala Land's total common-area footprint resulting from the opening of new facilities in 2009, the company's 2010 figures show its total consumption grew by only three percent.
Despite business growth, overall fuel consumption decreased in 2010. Purchased electricity, however, posted an eight percent increase from 2009's 591 million kWh.
Specific initiatives by Globe to conserve energy include an internal program launched in 2010. The Eco Action framework allows Globe to create more value for the customer through reduced environmental impact. It promotes the philosophy of "Doing More with Less," i.e., using less resources and generating less wastes for similar or even better services. Strategies are primarily focused on the reduction of carbon emissions through energy conservation, efficiency improvements, adoption of cleaner energy sources where applicable, and waste reduction and management. Key program components of Eco Action are: Clean Fleet, Green Procurement, Clean and Green Office, Green Marketing, Green Network, and Reforestation Program.
In the coming years, we hope to report on the results of other energy conservation programs implemented by the group companies. IMI has its Energy Management Program and BPI implements No Overtime Friday twice a month. When possible, we want to extend our energy efficiency initiatives beyond our company offices into our communities and areas of operation. An example of this is Ayala Foundation's partnership with the International Finance Corporation and BPI for a public awareness campaign on energy efficiency.
Water consumption during the reporting period increased by 22 percent. We hope to lower this figure by adopting successful water stewardship efforts such as the reuse and recycling of water at the UP-AyalaLand TechnoHub, where greywater reuse increased by 120 percent from 2009 and 2010.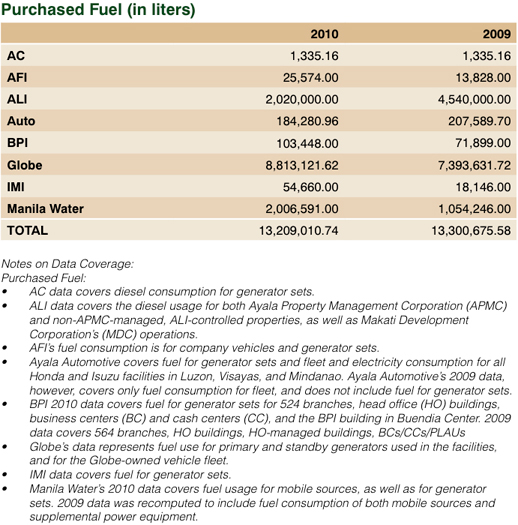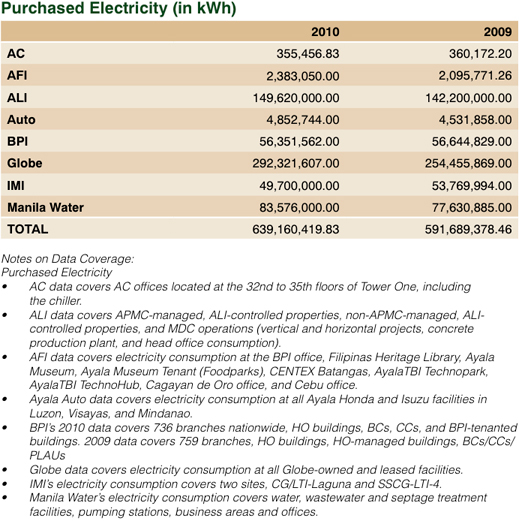 Impact Mitigation and Management
As businesses continue to grow, we become more committed to mitigating and offsetting the potential negative impact of our operations on the environment. We are pleased to report that the entire conglomerate received neither significant fines nor non-monetary sanctions for non-compliance with environmental laws and regulations.
We recognize that water supply security is imperiled by climate change. To help improve the country's water service levels, Manila Water contributes to the rehabilitation and revival of Metro Manila's major water bodies—the Pasig, Marikina and San Juan Rivers—and its detailed discussion is found in its report. Honda Cars also started contributing to the improvement of our forest cover, particularly in the La Mesa Watershed. Done in cooperation with Bantay Kalikasan, Honda's contribution includes tree-planting initiatives and programs on flood control and the prevention of soil erosion.
Waste-management efforts improved over the last two years. More subsidiaries, Globe and BPI in particular, began classifying and measuring the types of waste that they generate to better manage their methods of disposal. Hazardous materials are disposed according to strict international standards. At present, only Ayala Land utilizes composting as a major disposal method due to the volume of organic waste generated across its commercial and residential communities.
A total of 280 buildings in the Makati Central Business District (MCBD) participated in Ayala Foundation's successful and long-running solid waste management (SWM) program and close to 1,000 individuals and companies disposed of their solid waste at the 2010 Ayala Recyclables Fairs. With a more expanded geographic coverage, the two programs recovered a total of 1,772.44 tons and 3,165 pieces of assorted recyclables worth PhP 13.55 million. This was an improvement from 2009's figures of 1,390 tons of recyclables or an equivalent of PhP 7.65 million.
We commit to programs that shape the lifestyles of our contractors, customers, and communities so that they can protect the environment by their actions and habits. Ayala Land uses its purchasing power to influence contractors and suppliers to adopt more environmentally friendly products and services. With ALI's creation of a procurement council, consisting of the procurement heads of the company and its subsidiaries and affiliates, and with alignment of their procurement processes, controls, and strategies in 2009, the company is able to further embed sustainability principles with its green procurement initiative. The initiative requires environmental certification as basis for the selection and awarding of contracts with the company. It also updated its ISO Manual to integrate a section on environmental procurement.