Globe Enables Access to Education
Geographic fragmentation makes access to education a challenge in the Philippines. Globe's corporate social responsibility (CSR) program seeks to transform the educational ecosystem by integrating its outliers through the technology and innovation intrinsic to its business.
Globe's primary CSR advocacy is to provide ICT access to as many students, teachers, school administrators, and other education stakeholders in the Philippine public school system as possible, regardless of their location, their age, or their level of competency.
Connected and Competitive
For almost a decade now, Globe through the Bridging Communities (BridgeCom) Program has been connecting public schools to the Internet. By doing so, Globe enables the latest e-learning tools to be used in public schools. This helps educators to design efficient and forward-looking working and learning processes.
Recent investments in international submarine cable systems, cable landing stations in Batangas and Cagayan, and two fiber-optic backbones help provide broader ICT access to residents in far-flung rural communities. Globe's broadband connections allow data-intensive teaching materials such as audio and video files or animated graphics to be used in lessons. Globe leverages its wide network to bring these development actions to scale.
As of 2010, a total of 4,497 public high schools all over the country were connected in cooperation with the Department of Education's (DepEd) Internet Connectivity Program (DICP), with 2,153 more awaiting connection. Globe is the telecommunications company with the most number of public high schools connected to the Internet at 1,954. In addition, Globe connected 58 public elementary schools, bringing the total connected public schools for the year to 2,012.
Globe's Internet-in-Schools program is done in partnership with Gearing up Internet Literacy and Access for Students (GILAS) consortium and USAID- Growth with Equity in Mindanao's Computer Literacy and Internet Connection (CLIC) project.
Global Filipino Teachers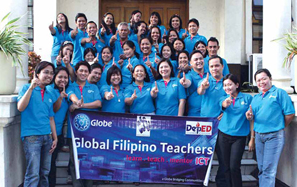 Innovative teachers trained to utilize ICT to improve student performance are crucial to the success of technology-driven educational programs. Globe created Global Filipino Teachers (GFT), a holistic teacher-enhancement program to help teachers adapt to their new ICT learning environment.
Implemented under Globe BridgeCom in cooperation with Cebu-based Coalition for Better Education (CBE) and the DepEd, GFT provides teachers with essential skills to fully integrate ICT into their classroom instruction.
Globe's ICT program involves ICT skills assessment, a teacher-enhancement program, and an evaluation system. The last item monitors the interactive learning activities that the teacher-participant implements to make sure they improve classroom participation, promote creativity, and produce efficient learners and problem solvers.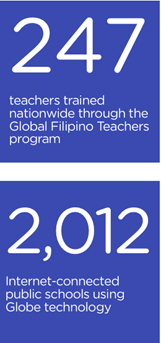 In 2010, GFT expanded its coverage in Luzon (Metro Manila, Cavite, Batangas, Oriental Mindoro), Western Visayas (Negros Occidental, Iloilo, Aklan, Antique, Capiz), and Eastern Visayas (Leyte, Samar, Northern Samar). Elementary school teachers from Cagayan de Oro City in Mindanao were also trained under GFT. From an initial 97 teachers who finished the training from the first batch, there are now 247 GFTs all over the country.
Global Filipino Schools
In December 2010, Globe launched a more comprehensive CSR program in the field of ICT education: Global Filipino Schools (GFS).
The GFS program is a competency-building initiative that envisions ICT-excellent public schools. At GFS schools, students tap networked computers, teachers develop and use effective multi-media material, and school heads manage administrative processes with efficiency-enhancing ICT systems.
Palo National High School in Palo, Leyte (Eastern Visayas) and Bilar National High School in Bilar, Bohol (Central Visayas) were selected as GFS pilot schools since they are already in the early stages of introducing innovations in their system. Both schools have also shown potential in undertaking sustainable development projects as well as the ability to forge partnerships and collaborate with community stakeholders.
More public high schools that have the potential to become "ICT-excellent" will be identified later on. The goal is to create at least one GFS per region in the next three years beginning 2011. Globe also plans to invite local government units to evaluate the program and help fund one GFS in their own municipality in the next 10 years.