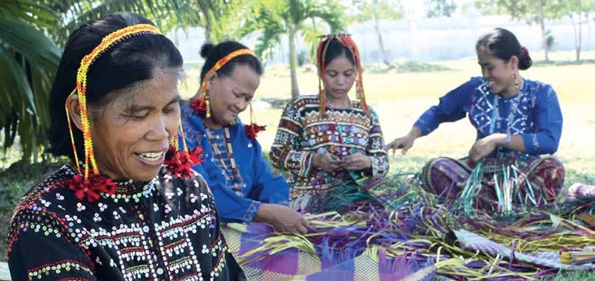 Changing the Social Landscape
Ayala leverages its expertise and positive attributes to drive social and economic benefits back to the country so that a positive cycle of sustainability and shared value among all stakeholders can take place.
As the entire company moves beyond traditional CSR, we consider the country's development challenges as catalysts to innovation. We engage underserved and unserved markets, such as those in the base of the economic pyramid, by working for their integration and addressing their needs in an economically viable manner.
We cover in this section social development programs that are easy to replicate in various contexts to become more broadly available. We improved and innovated on business models and systems, and increased access to products and services crucial to the development of previously neglected sectors of society. ultimately, we seek to empower the marginalized sector through our strategic interventions and sustainability initiatives. We are proud to report that there were no reported incidences of human rights violations throughout our interventions, including our engagement with the Iraya- Mangyan indigenous community.
Strategic Interventions, Sustainable Investments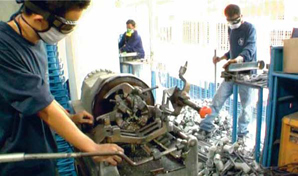 Manila Water's Tubig Para Sa Barangay (TPSB) or Water for the Poor program is a success story of the triple bottom line business model. It is also a banner initiative in terms of promoting inclusivity and seeing the urban poor both as a viable market and as agents of their own development.
As of 2010, the TPSB program granted more than 1.7 million urban poor access to continuous water supply. By connecting the poor to water lines and making water affordable, water pilferage was curbed, which significantly contributed to the drop in non-revenue water (NRW) from 63 percent in 1997 to 11 percent in 2010. Even with the same water supply in 1997, Manila Water's service coverage doubled because of the water recovered from NRW that translated to a billed volume of 1.1 billion liters per day.
A socialized tariff scheme significantly reduced the average low-income household's monthly water expense from PhP 1,500 or more to only PhP 72. Water- meter installation, which cost a regular rate of PhP 7,715.49, was subsidized by a grant facility of the World Bank's Global Partnership on Output-Based Aid, and also allowed for flexible payment options. Both socialized tariff scheme and subsidy led to a reduction of the installation charges to PhP 2,971.84. Today, more than 6.1 million people in the East Zone, including the poor, enjoy the benefits of having clean, potable water 24/7.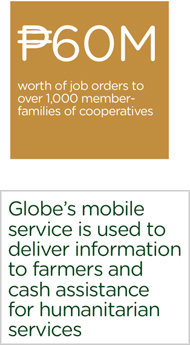 With piped access leading to less time spent lining up for water, low-income communities were presented with opportunities for bigger financial savings and better economic options. Community-based cooperatives became business partners of the company through the Kabuhayan Para Sa Barangay (KPSB) or Community Livelihood and Development program. To date, the KPSB program has placed around PhP 60 million-worth of job orders to over 1,000 member-families of cooperatives.
Crucial to the success of the TPSB model of Manila Water is the strong inclusivity principle underlying it. Members of the communities were seen and empowered as project co-owners rather than beneficiaries. Community members were expected to participate at every stage of the project, from the public consultations until water services were fully operational. Because of this sense of responsibility, people paid their accounts on time and protected the water lines from pilferage. The local government units (LGUs) also gave their support by easing the communities into the documentary requirements of piped water connections.
Food Security Through Mobile Services
Globe's GCASH is an internationally acclaimed micro-payment service that allows subscribers to easily and conveniently send and receive cash electronically. In 2010, GCASH was used for the Cash-for-Work (CFW) program to meet the immediate food and nutritional needs of communities affected by Typhoon Ondoy. CFW is a cash-transfer endeavor designed to support the recovery and rehabilitation of communities affected by natural disasters, armed conflicts, and chronic hunger in Southeast Asia. It is a program of the United Nations World Food Programme (UNWFP), the world's largest humanitarian agency fighting hunger in more than 70 countries.
Globe's mobile phone–based cash disbursement mechanism under CFW is both a first in the Philippines and in UNWFP's operations in Southeast Asia. According to the United Nations (UN), it is a welcome development in cash assistance for humanitarian services. While crucial in post-disaster relief and rehabilitation efforts, cash assistance poses difficulties with its susceptibility to loss or robbery. using GCASH, disbursements and withdrawals are safer and more effectively monitored.
For the GCASH pilot CFW project, some 2,000 indigent households from severely affected areas (Mandaluyong and Marikina in Metro Manila; and Jala- Jala, Binangonan, and San Mateo in Rizal) attended trainings and participated in the community rehabilitation projects of the Department of Social Welfare and Development (DSWD) and Community Family Services International (CFSI). Participating residents were paid both in GCASH and in kind (rice). A hundred percent of the households using Globe GCASH in identified pilot areas have completed the program. The uN has cited Globe for its willingness and capacity to immediately implement this innovative mechanism after Typhoon Ondoy struck the country.
Another innovation from Globe is the Nutrient Manager for Rice Mobile (NMRiceMobile). Done in partnership with the Department of Agriculture and the International Rice Research Institute, the project seeks to address food security and productivity challenges in the Philippine agricultural sector.
NMRiceMobile is a toll-free text messaging service that gives rice farmers and extension workers in remote areas comprehensive, but fast and cheap, site-specific fertilizer guidelines for their rice fields. Since farmers spend a substantial amount on fertilizers, they need to determine the right fertilizer to apply at the proper time to maximize production and profit and reduce waste.
Globe hopes to help farmers get greater yields on their crops by simply using their mobile phones. It is looking into further commoditization of other mobile telecommunications services that can promote the stability and sustainability of the country's rice production.
Stronger Social and Economic Clusters
Ayala's success is built on the success of its communities. We prioritize the development of our areas of operations. Business and industry flourish where social and economic clusters are strong and self-sufficient and exist to meet the need for proper education, empowering livelihood, and other infrastructure and services. With the public sector's limited financing and conventional methodologies, Ayala has always believed business must step in. With its creative approaches, results-oriented ambitions, and bias for action, private sector intervention can prove truly beneficial.
Access to Knowledge and Quality Education
The Philippine public education system continues to partner with our companies, especially Ayala Foundation, Inc. (AFI), our group's CSR arm. Integral to national development and global competitiveness, quality education complements poverty alleviation programs and increases the wealth creation opportunities of local economies by upgrading skills and productivity.
By the end of 2010, the Gearing up Internet Literacy and Access for Students (GILAS) consortium, which seeks to connect all Philippine public high schools to the Internet, had connected 3,040 or 43 percent of the 7,097 public high schools. GILAS has benefited over 3.5 million students and trained 12,500 teachers and school heads in the use and care of the donated equipment.
Text2Teach is an ongoing ICT for education program that complements the basic education curriculum. It is spearheaded by a consortium composed of AFI as project lead, Nokia, Globe Telecom, SEAMEO INNOTECH, and the Department of Education (DepEd). Text2Teach entered its third phase in 2009 and has since reached 180 new public elementary schools and around 28,000 students as of end-2010. This brings the total number of beneficiaries to almost a million students from 406 schools in 27 provinces, cities, and municipalities since program inception in 2003. Additionally, almost 900 school heads, teachers, and DepEd officials were trained on the use of Text2Teach technology in the classroom under phase 3 of the program.
The Ayala group, through AFI, continues to provide quality basic education to bright students from poor communities through its Center of Excellence in Public Elementary Education (CENTEX) public schools in Manila and Batangas. Since 2005, 832 students have graduated from the CENTEX schools. For school year 2010-2011, 62 scholars from Manila and Batangas graduated from high school. There are also ten CENTEX graduates that have received college scholarships to schools in Manila through Ayala Foundation.
CENTEX has also promoted the continued professional growth of its teachers. In 2010, 63 teachers from Manila and Batangas participated in its annual teacher-training workshop, while three other teachers received scholarships to attend training workshops in Singapore and Hawaii.
CENTEX also introduced A Class of your Own. The program encourages companies and individuals to support a class of kindergarten students up to their grade-school graduation. In 2010, Thomson Reuters adopted a class of 25 students in CENTEX Manila, while an anonymous donor adopted a class in CENTEX Batangas. JPMorgan Chase & Co. also donated PhP 2.6 million to cover three classes of 25 pupils each, including teacher training and enhancement activities. The Philippine Development Foundation, formerly Ayala Foundation USA, raised for CENTEX a total of PhP 1.5 million to cover four classes.
The Education and Livelihood Skills Alliance (ELSA) is composed of Ayala Foundation, International youth Foundation, Consuelo Foundation, Petron Foundation, and Philippine Business for Social Progress. ELSA is one of the lead partners in the implementation of the United States Agency for International Development (USAID)-funded project Education Quality and Access for Learning and Livelihood Skills (EQuALLS2). The program seeks to improve quality of education in public schools and access to learning and livelihood skills to out of school youth in the Autonomous Region of Muslim Mindanao, Region 9, and 12.
As part of ELSA, Ayala Foundation conducted resource mobilization training activities for Parent Teacher Associations, training 105 PTAs as of 2010. Seven Municipal Education Fora were held in selected areas in the provinces of Sarangani, South Cotabato, Sultan Kudarat, North Cotabato and Cotabato City. The fora were organized to give education stakeholders and local government units a venue to discuss education related issues, and to ensure that government education plans are aligned with community needs. In addition, AFI also organized youth leadership camps for 375 Muslim, Christian, and Lumad youth in Mindanao, with the goal of cultivating the leadership potentials and good citizenship values among the youth, and promoting inter- cultural dialogue and understanding.
Livelihood and Capability Building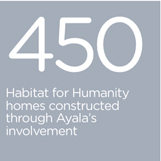 As we enter communities, we launch livelihood and capability-building programs so that our host communities and the companies are ushered into a more productive engagement. To properly master-plan sustainable communities, we make sure that we supply the informal settlers in our properties with the necessary support and amenities in their new environment so that they can lead healthy and productive lives.
Ayala Land has partnered with Habitat for Humanity in the development of a low-cost housing site in Calauan, Laguna. This is part of the multi-sector initiative called Kapit-Bisig Para Sa Ilog Pasig (Linking Arms for the Pasig River) Program. We envision the Calauan site to be a model resettlement area for informal settlers currently living along the banks of the Pasig River, as well as the primary victims of Typhoon Ondoy; and to be a thriving community for more than a thousand families in the near future. The Ayala group's employees, including CEOs, volunteered to build the first 175 out of the 1,000 units targeted for the resettlement. We also raised resources for the construction of 450 houses as of the reporting period.
Ayala's 17-hectare property adjacent to the resettlement site will have a community center and livelihood area for the residents. This community center will include a church, vocational school, community clinic, transportation terminal, gas station, vegetable gardens, and spaces for light industry and small businesses that will be set up in partnership with other corporations and religious orders.
We also actively promote inclusivity when nurturing local economies. Ayala Land is proud of the fact that 40 percent of the manpower needs of the NuVALI development was sourced from its neighboring communities in Canlubang and Sta. Rosa in Laguna. We also brought together 13 of our suppliers and support-service providers and held a job fair in NuVALI for the screening of qualified applicants from the area. About 1,500 job applicants from Barangay Canlubang and Sta. Rosa participated in the fair and at least 77 were successfully placed.
In 2009, Ayala Land also brought together all its CSR initiatives for NuVALI's Canlubang and Sta. Rosa communities. Alay sa Komunidad benefits a total of 600 families with programs on livelihood and empowerment to help them become self-sufficient and progressive communities. Ayala Land, in partnership with the Ateneo School of Government, held a one-and-a-half day workshop on Effective Leadership and Good Governance to benefit 21 community leaders and barangay officials. Two neighborhood associations were formed to serve as cooperatives in partnership with the LGUs in 2009. Over 200 community leaders and residents have benefited from ALI's entrepreneurial programs since program inception in 2007.
Among the first livelihood projects were the PNA Food Service, a food catering business, and the Tindahan Natin neighborhood store. Both provide participating communities with a steady monthly income of PhP 60,000 to PhP 80,000. Thirty community leaders and members of the cooperative were also brought to NuVALI for training in basket weaving. The participating basket weavers now supply their products to various stores such as Echo Store at Bonifacio High Street. Community members were also taught to make charcoal briquettes out of cogon grass, which grows wild in the NuVALI environs and surroundings. The briquettes are now sold to other neighboring communities in Laguna that use them as a main source of fuel for cooking.
Health and Sanitation
Without any access to basic health and sanitation services, potential outbreaks of diseases compromise community efforts at change and development. Public establishments in the Philippines, unfortunately, are plagued by rusted pipes and poorly maintained wash facilities.
With Manila Water's stakeholder-focused approach to business, Lingap (We Care) Programs or Water and Sanitation for Public Service Institutions were created, improving the water supply and sanitation facilities of schools, hospitals, markets, city jails, and orphanages in the East Zone. Manila Water rehabilitated water lines and installed drinking fountains and wash facilities in more than 300 public service institutions that benefit over 1.5 million people.
Ayala Land also attended to the basic health needs of its communities. Medical and dental missions under the Alay Kalusugan program provided immediate grassroots assistance through consultation on physical ailments and basic tooth extraction, and benefitted a total of 200 residents of Sitio Majada, Canlubang, and Barangay Sto. Domingo, Sta. Rosa, both in Laguna. After Typhoon Ondoy, around 1,500 residents of four barangays in the cities of Calamba, Sta. Rosa and Biñan in Laguna, and in three barangays in Taguig also received immediate medical assistance from Ayala Land.
Holistic Development. Social development is enhanced by the holistic personal development of the individual. Thus, the promotion of art, history, and culture continues to be a priority for Ayala.
Ayala Museum intensified its programs on art education benefiting students and the general public with exposure to the latest knowledge from leading artists and historians from the Philippines and abroad. A total of eight lectures under the Design Talks series and four History Comes Alive! lectures with renowned historian Ambeth Ocampo were held in 2010. To further instill pride in the Filipino, Ayala Museum brought to the public an exhibition of the latest works of National Artist Arturo Luz and launched public art exhibits at Ayala Triangle Gardens and Ayala Malls.
Public libraries are important components of a supportive educational cluster. They promote literacy and knowledge by providing free access to important information and education materials to the community. Filipinas Heritage Library (FHL) is rehabilitating community libraries all over the country through MyLibrary and promoting a culture of reading among the youth in particular. On its first year, MyLibrary successfully received the support of businesses and LGUs for the rehabilitation of two community libraries in Tiwi, Albay, and San Pascual, Batangas. Done in partnership with Chevron Philippines, the rehabilitation was complemented with the training of 67 librarians and a reading campaign and storytelling sessions in these areas.
FHL is also instrumental in promoting awareness of Philippine heritage and culture by mounting the Philippine Popular Culture lecture and educational exhibits. In cooperation with the Ayala group of companies, the library launched Bravo! Celebrating the Filipino, a festival that honored the achievements of Filipinos in the fields of music, dance, photography, fashion, and cinema.
On a much wider scale, FHL upheld the continuing professional education of 38 librarians from different parts of the Philippines with the 2nd LibraryLink Conference. Contemporary issues related to the practice such as digital archiving and preservation of library materials were discussed in the conference. To support the education and training of teachers in art education at the grade school level, FHL published ArtConnection Resource Book for Teachers of Makabayan (May Sining at Musika sa Kasaysayan at Sibika).

We also partnered with the National Book Development Board and held two pioneering events: Future of the Book, which was the first digital publishing conference in the country, and Lit Out Loud, the first Philippine international literary festival.
Collaborating for Social Change
In 2010, Ayala Foundation USA was transformed into the Philippine Development Foundation (PhilDev) at the PhilDev Forum and Gala in San Jose, California. PhilDev strives to attain a sustainable and globally competitive Philippine economy by developing programs and supporting partnership initiatives in science, technology, innovation, and entrepreneurship. As a diaspora-philanthropy organization, PhilDev also facilitates donations from u.S.-based donors for non-profit organizations in the Philippines. Last year, PhilDev raised almost $2 million in funds (in cash and in kind) for various development projects in the Philippines. Other collaborative efforts entered into and spearheaded by the group, such as GILAS and Noah's Ark, are discussed throughout this report.