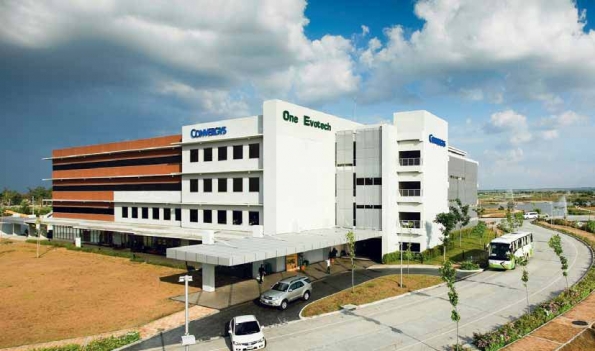 Ayala Land Builds Green
Ayala Land's One Evotech in NUVALI received the much-coveted Leadership in Energy and Environmental Design (LEED) Silver Certification from the United States Green Building Council (USGBC) in 2010. One Evotech, a business process outsourcing facility, became the first office building in the country to be awarded the prestigious award.
Envisioned as a world-class structure with practical sustainability features, One Evotech promotes energy efficiency through the building's orientation to the sun, its close proximity to a retail center, and access to basic services such as transportation. When it was measured against the rigorous standards of USGBC, it became apparent that the building could meet the LEED certification system requirements.
Taking the LEED
Thus began the pursuit of the LEED Silver Certification. An all-Filipino project team was responsible for the certification process, consisting of experts from Ayala Land's Innovation and Design Group, Construction Management Division, Ayala Property Management Corporation, Makati Development Corporation, and the Project Development unit of Ayala Land Businesscapes.
The Ayala Land team worked hard to secure the LEED certification to show clients how much the company values quality and sustainability. The team adopted inputs from the UP-AyalaLand TechnoHub project, which pioneered green building practices in 2007.
Green building features at One Evotech include an energy efficient district cooling facility that will also cater to existing and future commercial buildings in the vicinity; occupant-controlled air-conditioning, where energy charges are based on actual usage to promote energy conservation; the use of recycled water for toilet flushing, irrigation, and cooling; optimized building design through a computerized building energy model; the use of low-volatile organic compound materials; and methods to ensure good indoor air quality. Ayala Land also managed a financial model for a reasonable return to investors despite the premium paid to qualify the building for LEED Silver.
Because of One Evotech's successful LEED Silver certification, Ayala Land is now working on putting its other new buildings through the LEED certification process.
Greening the Local Industry
Part of the Ayala Land's public responsibility is to undertake industry-wide actions that promote the nationwide adoption of environmentally responsible principles and practices.
Together with other members of the Philippine Green Building Council (PHILGBC), Ayala Land participated in discussions on green policy measures to shape relevant national and local regulations. One of PHILGBC's core mandates was to develop a consensus-driven, industry-led, and government-supported green building rating system to properly measure the environmental performance of buildings.
Given Ayala Land's groundbreaking initiatives in sustainability, Ayala Land took a lead role in the development of the PHILGBC's green rating system. Called Building Ecologically Responsive Design for Excellence, BERDE provides the necessary local framework and serves to guide property owners, construction managers, designers, and property managers in sustainable building design, construction, and maintenance. The BERDE green rating system complements LEED.
Seeking to push for the widespread use of BERDE, Ayala Land adopted the standard in eight other buildings: Tower One and Exchange Plaza, Solaris One, and Greenbelt Mall in the Makati Central Business District; NUVALI's Evoliving Center and One Evotech in Canlubang, Laguna; Marquee Mall in Angeles City, Pampanga; UP-AyalaLand TechnoHub in Quezon City; and Bonifacio One Technology Tower in Bonifacio Global City.