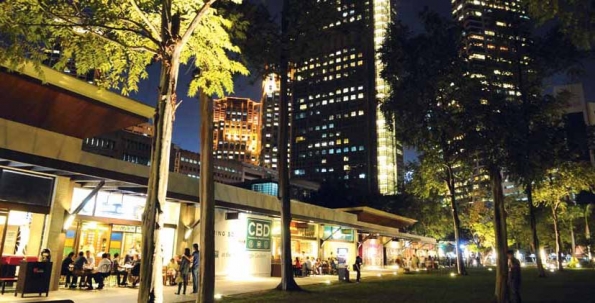 About Our Group
Begun in 1834, Ayala is the oldest business group in the Philippines and one of the most diversified.
Its companies—in real estate, banking and financial services, telecommunications, water distribution, electronics manufacture, automotive dealership, business process outsourcing, renewable and conventional energy and power—employ more than 27,000 people across the Philippines.
In 2010, the group reported consolidated revenues of PhP 98.1 billion. The group includes six publicly listed companies, including the parent company, Ayala Corporation. Together, the six have market capitalization of about PhP 778 billion and account for 20 percent of the Philippine Stock Exchange Composite index.
Major subsidiaries and affiliates are:
Ayala Land, Inc., the Philippines' largest fully integrated property developer. It is responsible for some of the most successful master-planned communities with residential, shopping center, office, hotel, and leisure components.
Bank of the Philippine Islands, the largest Philippine bank by market capitalization and the third largest by total assets. It is also a leader in remittance, trust, and asset management services.
Globe Telecom, Inc., formed out of a partnership between Ayala and Singapore Telecom, is one of the largest and most technologically advanced mobile, fixed- line, and broadband networks in the country.
Manila Water Co., Inc., the sole provider of water and wastewater services in the East Zone of Metro Manila. It also has separate operations in other parts of the Philippines and in Vietnam.
Integrated Micro-Electronics, Inc. is a leading electronics manufacturing services provider in Southeast Asia.
Ayala Automotive Holdings Corporation, is a leading vehicle dealership network of Honda and Isuzu brands in the Philippines.
LiveIt Investments Ltd. is the holding company for Ayala's investments in the business process outsourcing sector.
AG Holdings Ltd. is the holding company for the Ayala group's international property investments in the united States and Asia.
AC Energy Holdings (formerly Michigan Power) is Ayala's power generation holding company established in 2011, with investments in the development of solar, wind, and mini-hydropower sources.
Ayala Foundation, Inc. is the Ayala group's corporate social responsibility arm, with programs in education, environment, entrepreneurship, and arts, history, and culture.
Ayala Corporation's current principal shareholders are members of the founding family and Mitsubishi Corporation, which at the end of 2010 held 52.2 percent and 10.8 percent of the company, respectively. About 69 percent of the company is held by Philippine entities.
Disclosures of business developments throughout the year, including a share buyback program and issuance of PhP 10 billion 7.20-percent fixed-rate putable bonds in 2010, are on the Ayala website at www.ayala.com.ph.
Ayala Corporation has its headquarters along Ayala Avenue in Makati City, Philippines.